Travel
Welcome to Bucharest
Known for its wide, tree-lined boulevards, glorious Belle Époque buildings and a reputation for the high life (which in the 1900s earned its nickname of "Little Paris"), Bucharest, Romania's largest city and capital, is today a bustling metropolis.
Romanian legend has it that the city of Bucharest was founded on the banks of the Dambovita River by a shepherd named Bucur, whose name literarily means "joy."
His flute playing reportedly dazzled the people and his hearty wine from nearby vineyards endeared him to the local traders, who gave his name to the place.
Airports / Air Transportation
Henri Coanda International Airport (OTP)
Address: Calea Bucurestilor 224
Tel: (21) 204.12.00 or 204.12.10
Web: www.otp-airport.ro
Most international flights arrive at Henri Coanda International Airport (Otopeni), located about 12 miles north of downtown Bucharest. Facilities include ATMs, an exchange office and cell phone rentals. Major car rental companies have offices located on the baggage claim level.
Transportation between Henri Coanda International Airport and city centre:
Taxi: you can call a Taxi right from the Arrivals terminal via dedicated kiosks.
Express Bus 783 offers daily service to the city centre, with stops at Baneasa Airport, Piata Presei Libere, Piata Victoriei, Piata Romana, Piata Universitatii and Piata Unirii.
The bus leaves from the international departures terminal every 15 minutes (every 30 minutes after 8:30pm and during weekends), from 5:30am until 11:00pm.
The journey to downtown takes approximately 40 minutes.
Fare is 7 Lei (about $2.5) for a round-trip ticket.
Calling a Taxi
Hailing a cab from the airport is very straight-forward. There are dedicated kiosks in the Arrivals terminal (they are colored in yellow), which also display the fare (always choose the companies that have 1.40 lei / km, as this is the standard taxi fare).
Do not use taxis that have 3.50 lei / km listed as fare, because it's double what you would normally have to pay.
When taking a taxi, always make sure that the meter is running (it must read "Ocupat" = Hired) and is showing the fare – 1.40 LEI / km.
Getting to the Intercontinental Hotel
By Express Bus: take the 783 express bus and get off at Piata Universitatii. The hotel is across the street.
By Taxi: the Intercontinental Hotel is located at 4 BLVD. NICOLAE BĂLCESCU, right next to Teatrul Național (National Theater).
---
Public Transportation
Bucharest's public transportation network includes:
bus (autobuz)
tram (tramvai)
trolley bus (troilebuz)
subway (Metrou)
Buses, trams and trolley buses operate – between 5:00am and 11:59pm.
Tickets/cards must be purchased beforehand and validated upon boarding.
Travelers may be asked to show the validated ticket/card during the trip.
Travelers without a validated ticket must pay a 50 Lei ($15.00) penalty (Suprataxa).
Tickets or passes can be purchased at any kiosk displaying the RATB logo.
Bus / tram / trolley bus fares:
magnetic travel card (electronic wallet): 3.70 Lei ($1.05)
one-trip ticket or one-trip-fare: 1.30 Lei ($0.37)
day pass: 8.0 Lei ($2.27)
Tickets are interchangeable for the bus, tram and trolley bus, with the exception of express buses.
The express bus system is more useful for reaching destinations outside the city centre, as only a few express buses actually pass through the centre itself. Two- or 10-journey tickets are available for these buses.
Subway
The subway operates from 5:00am until 11:00pm
There are four subway (Metrou) lines (M1, M2, M3 and M4). Subway stations are indicated with the letter "M" (blue, on a white board).
Metro maps can be printed from here (see image below) or can be purchased in bookshops and newspaper kiosks. The final destination is indicated on the front of the train. Each stop is announced as the train nears the station.
Trains arrive every four to seven minutes during peak times and every 15-20 minutes off-peak times. The average distance between subway stops is one mile.
Subway fares:
2-trip metro card: 4 Lei (approx. $1.10)
10-trip metro card: 15 Lei (approx. $4.15)
1-day pass unlimited: 6 Lei (approx. $1.70)
Subway Map of Bucharest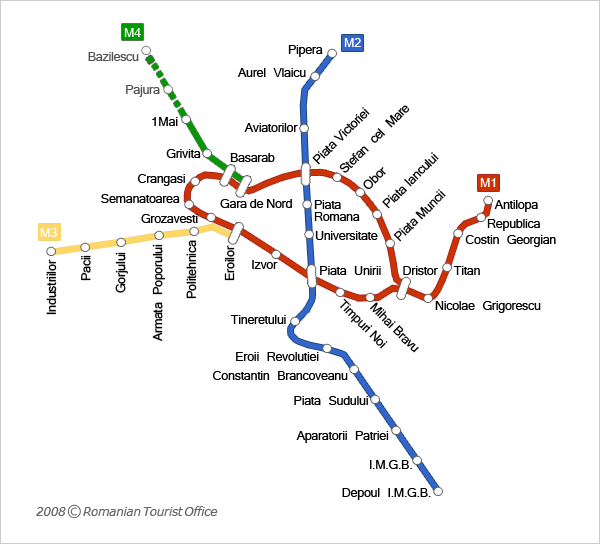 WiFi / Getting Online
Bucharest offers numerous WiFi hotspots, and many are free.
Usually, all you will need is a password (divulged to you when you order something) though in many venues in Old Town you can simply sit down and start surfing away.
There are now free WiFi hotsports in some parts of the Old Town, courtesy of Orange (see map below).
Bucharest free Wi-Fi / HotSpots include:
| | |
| --- | --- |
| Public spaces & parks:            | (HotSpot / Address)   |
| Piata Universitatii  (University Square) | La Biblioteca  (The Library) |
| Orange Concept Shop | Calea Victoriei |
| Orange Studio             | Piata Victoriei  (Victoriei Square) |
| Parcul Herastrau  (Herastrau Park)  | Gradina Japoneza  (The Japanese Garden) |
| Expres Olimp              | Bulevardul Iuliu Maniu  1 – 3 |
| Lacul Tei         | Strada Inginerilor |
| Strandul Moghioros  (Moghioros Pool) |   |
WiFi hotspots in the Old Town Bucharest (Centrul Vechi)